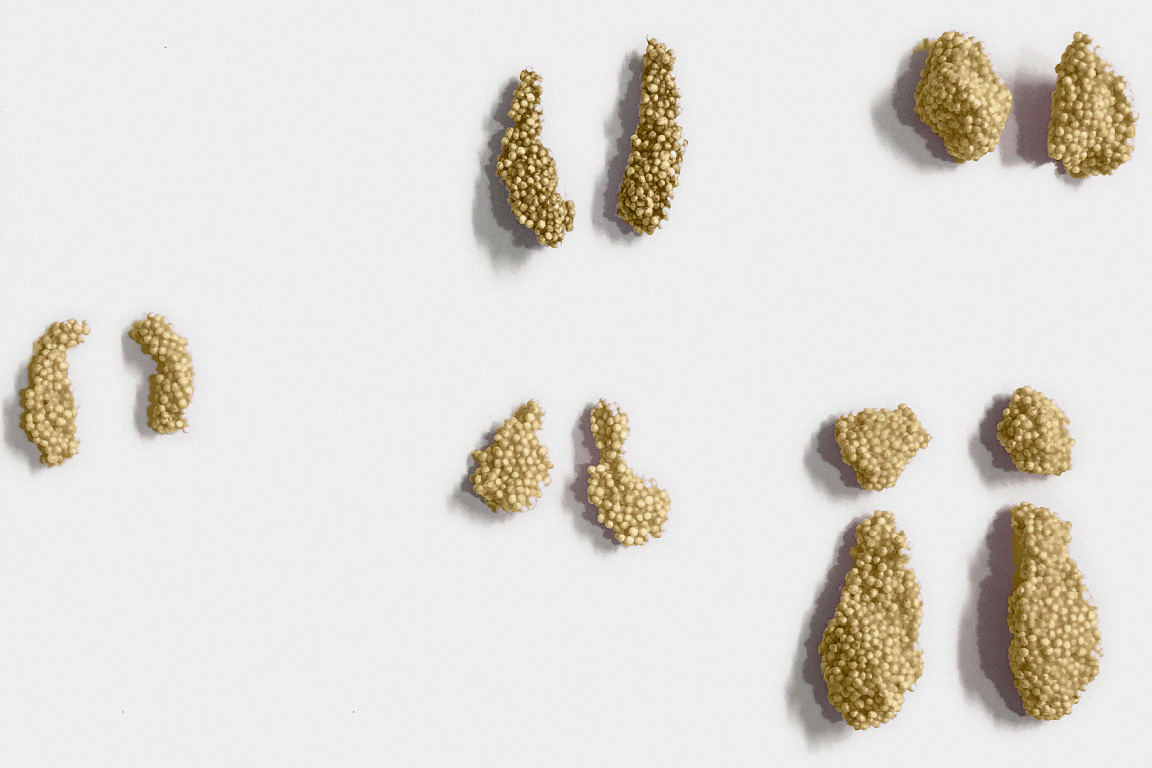 Mythic "lost' Corinthian Bronze redeveloped.
Sticky Play Dough Blobs shaped new collection "jewelry for the Gods" showing the ping pong between thought and matter.
ARTIST STATEMENT:
Jewelry for the Gods
'The true realness lies in the mirrorings and reflections of reality. Our reality is not the reality. Behind the reflections is where the realm of paradise or truthfulness is.'
I am fascinated by 'reality' and the transforming influence of our personal, spiritual or psychological approach and the sub-conscious.
This body of work is a registration of the process of abstract little sticky Play-Dough ideas literally forming shape. It shows the ping-pong between thought and matter, the worldly and the unworldly, earth and paradise. Through wearing, touching and absorbing these 'materialised ideas' you connect to the eternal; the realm of ideas, dreams, gods and paradise.
The play between rediscovered and redeveloped ancient Greek precious materials as Corinthian bronze and electrum with 3d techniques, connects the classic with the contemporary and the virtual- with our -relative- reality.
Liesbeth Busman
INVITATION FOR
GROUP SHOW
"INITIATION" ATHENS
AT SIERAAD JEWELRY & SILVER ART FAIR NOVEMBER 2017
Currently 8 artists are digesting the input from their curated visits to Athens. To show the resulting concepts in art-jewelry at this joint exhibition. come see.
About 'Initiation' exchange Athens - Amsterdam
"What all participants of the group show "Initiation" have in common is: they introduce visitors to different possibilities in jewellery art.
The very essence of jewellery techniques is transformation. To become aware of transformation, you have to go through an initiation.
At the very beginning of jewellery you find magic. It helped humans to gain control over their destiny. Magic is a progressive idea, for it proves that man dares to take action, to oppose gods and their wills, to do it "his way".

Jewellery is not just an object of a show; it has to be worn; it has to move in space; it has to make sense; it has to inspire; it has to connect. The history of jewellery can be also read as a chain of successive metamorphosis: a talisman, a gift, a souvenir, a symbol of power, a commitment, a token for eternity, a healing object, a link to the universe — this is what jewellery might be or become; and much more than that. "
"The Initiation" is organized by Loukia Richards and Christoph Ziegler

Results of the Athens Initiation will be exhibited during SIERAAD Art & jewelry Fair Amsterdam november 2017.
This is the link to pre-order your tickets, if you fill in NB2017 you will receive a 2,50 discount
https://www.eventbrite.nl/e/sieraad-international-jewellery-art-fair-tickets-36950097737